Green Beams 2 Lines Laser Level For Outdoor
NORM

China

20-30 days

2000 pcs
In the construction industry.The laser level makes a perfect and efficient use of the laser beam technology to project a level line of laser across the horizontal or vertical plane. This line helps you in getting an idea about vertical and horizontal alignment.When measuring. The tool is leveledaccording to the accuracy of the device and projects afixed red or green beam about the horizontal and orvertical axis.
Laser

Red laser / Green Laser

Type

1H1V

Expanded Angle

Horizontal & Vertical

Laser Class

Class II,<1mW power output

Laser Wavelenght

Red beam: 630-670nm

Green beam: 505-550nm

Leveling Accuracy

±3mm/10m

Leveling/Compensation Range

4°±1°

Working Range

Red:15m Green:30m

IP ratng

IP54

Power supply

4*1.5V AA(not include)

Operating temperature

-10° C to 50°C

Storage Temperature Range

-25℃ – +70℃

Mount Size

1/4-20 mounting thread

Product weight

240g

Product size

92*84*58mm
Comment: We have our own factory and excellent design team. OEM/ODM is accepted. Please do not hesitate to contact with us to show your idea.

SIX ADVANTAGES
Meet your measurement needs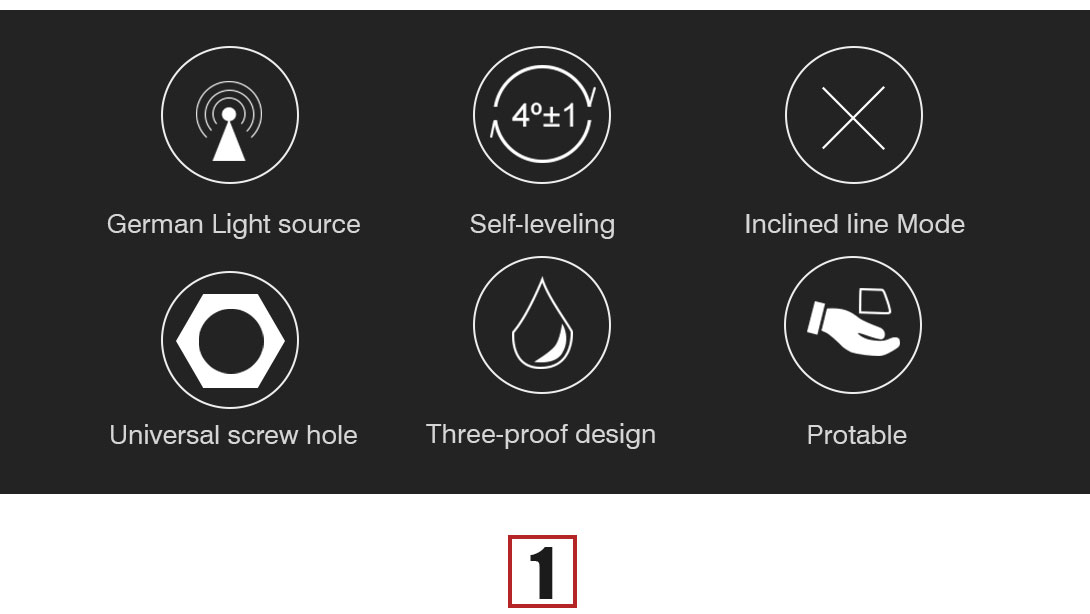 GERMAN OSRAM LIGHT SOURCE
Imported OSRAM LD laser transmitter, high brightness, low consumption, stable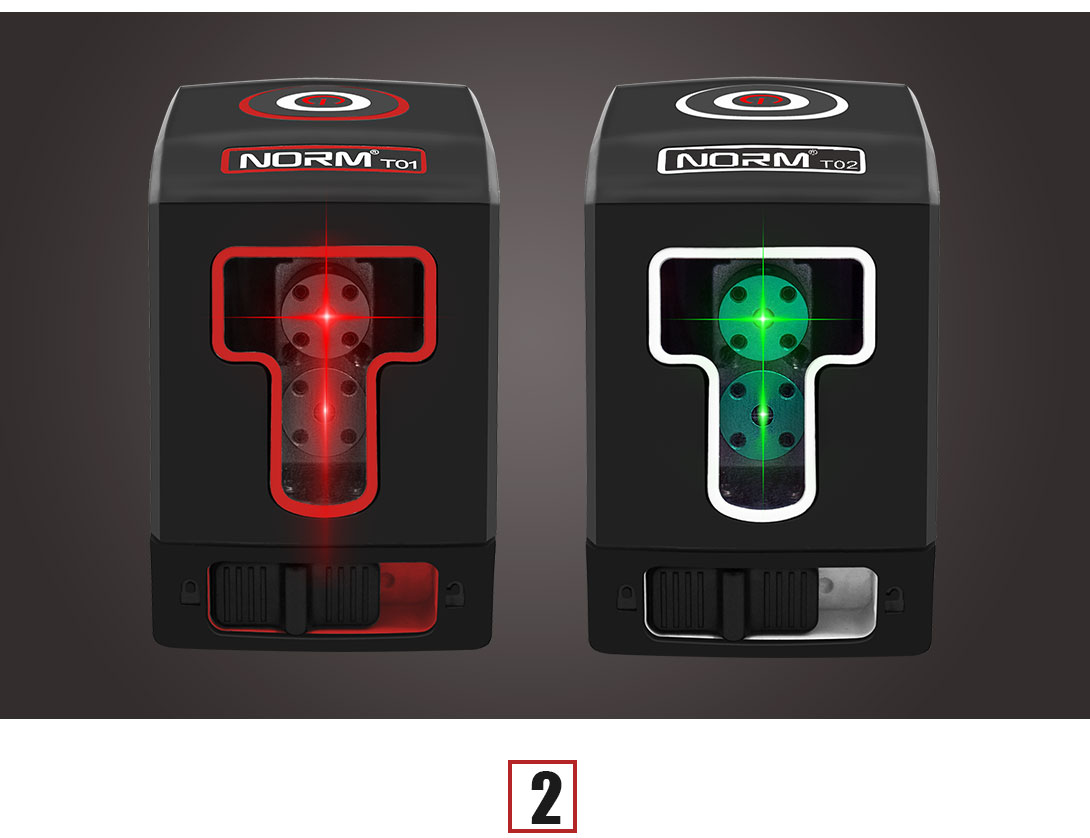 SELF LEVELING
Press the top power button or open the pendulum lock, the laser level will work, convenient and useful
1)When the level of the level is not horizontal and the offset is ≥ 4o, the level power button is displayed in red, and the light flashes continuously.
2)When the level of the level is placed horizontally or offset ≤ 4o, the level power button is displayed in green and automatically leveled.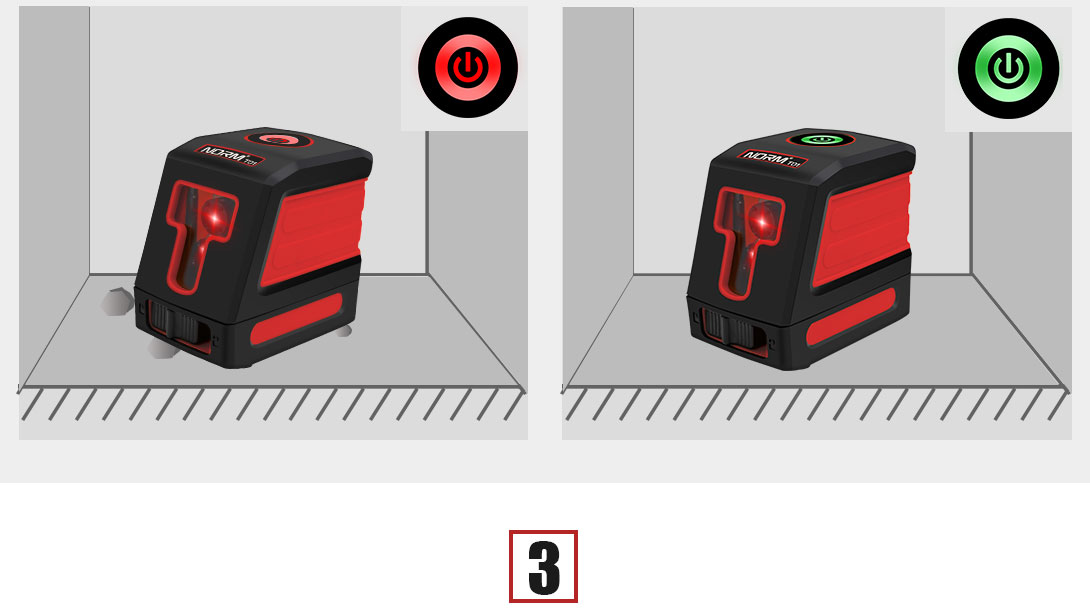 Line lock mode
Mechanical switch, movement lock, easy to transport and slash.(In order to avoid misoperation during operation, the light will flash once every few seconds in a diagonal state.)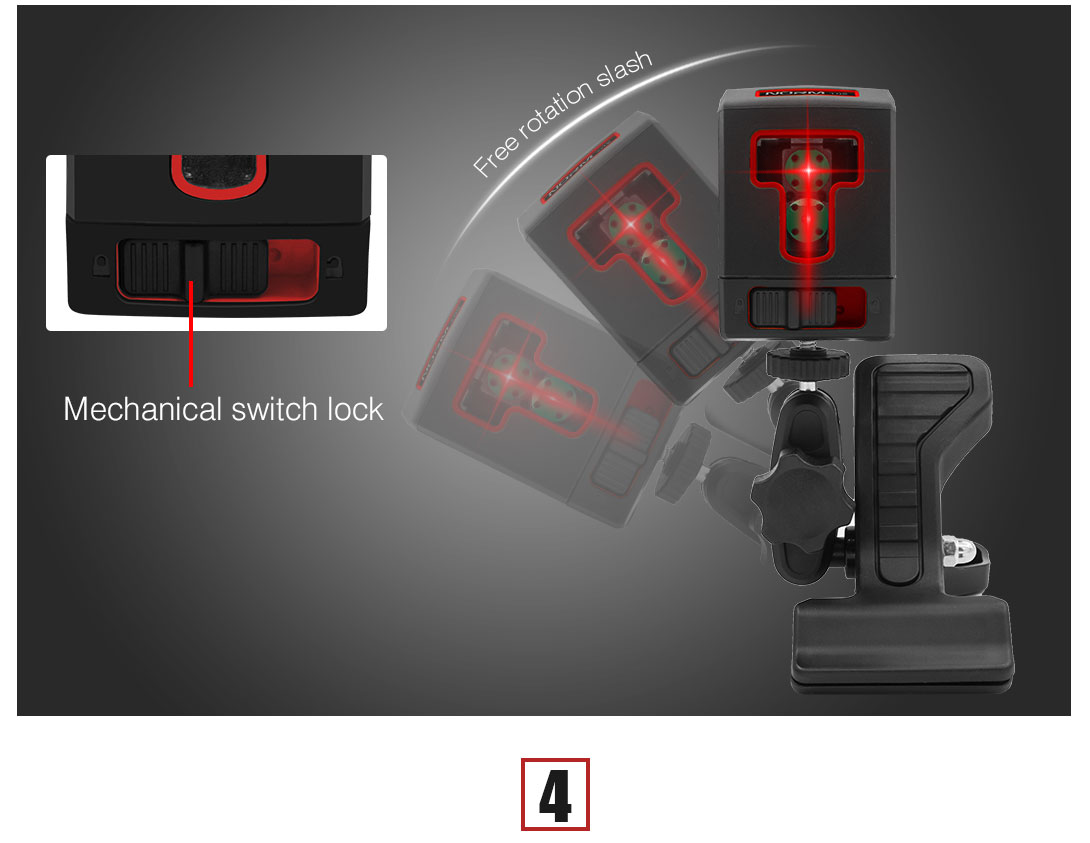 UNIVERSAL SCREW HOLE
1/4" inch universal screw hole for all types of holders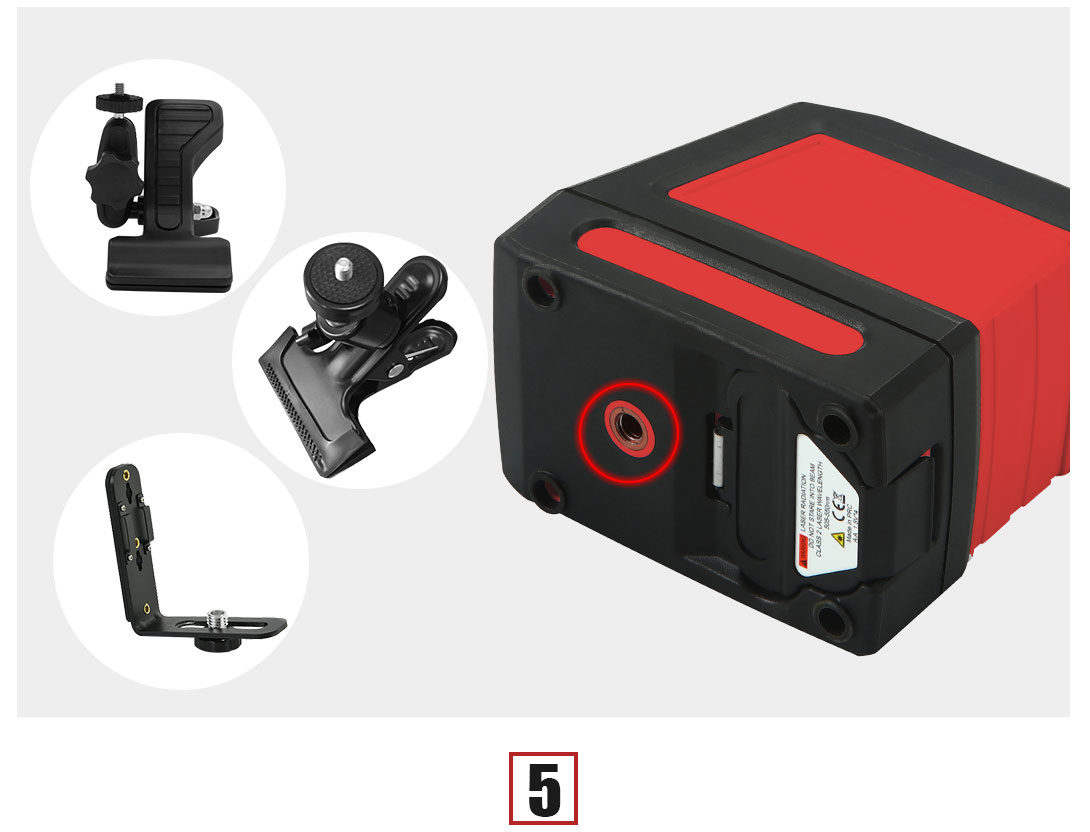 THREE-PROOF DESIGN
IP54 water-resistant design to protects the unit from water splashes, dust and construction debris. Our laser level can withstand the impact and wear of standard work sites.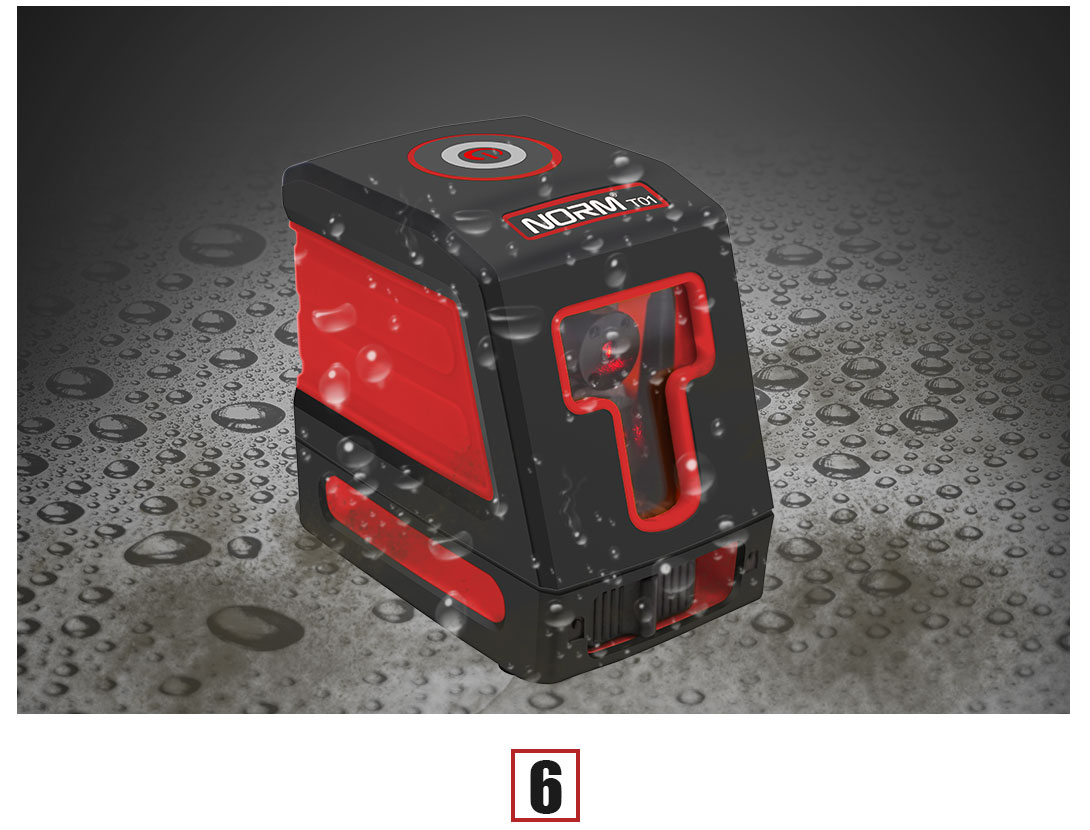 PORTABLE SIZE & COMPACT
Soft rubber on all sides provides you a comfortable grip feeling and resists impacting; Equipped pouch can prevent dust for storage and protects the laser level against impacting and scratching. Easy to carry and pack.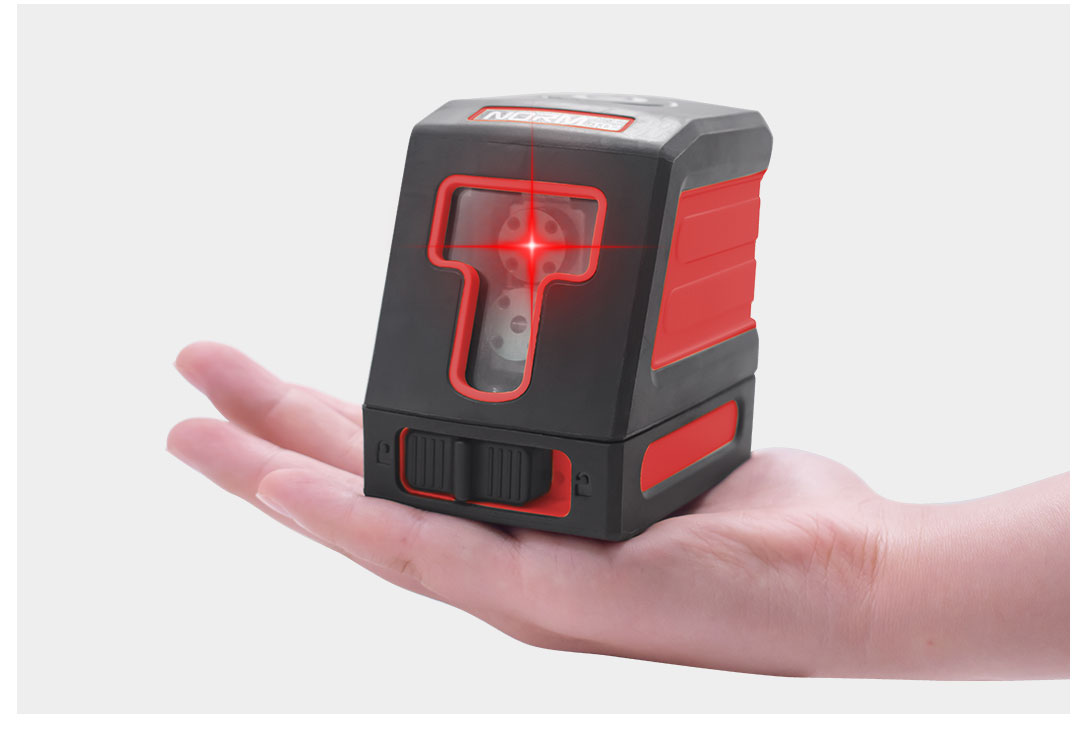 4*AA BATTERIES
4 batteries provide longer working hours Battery can be bought anywhere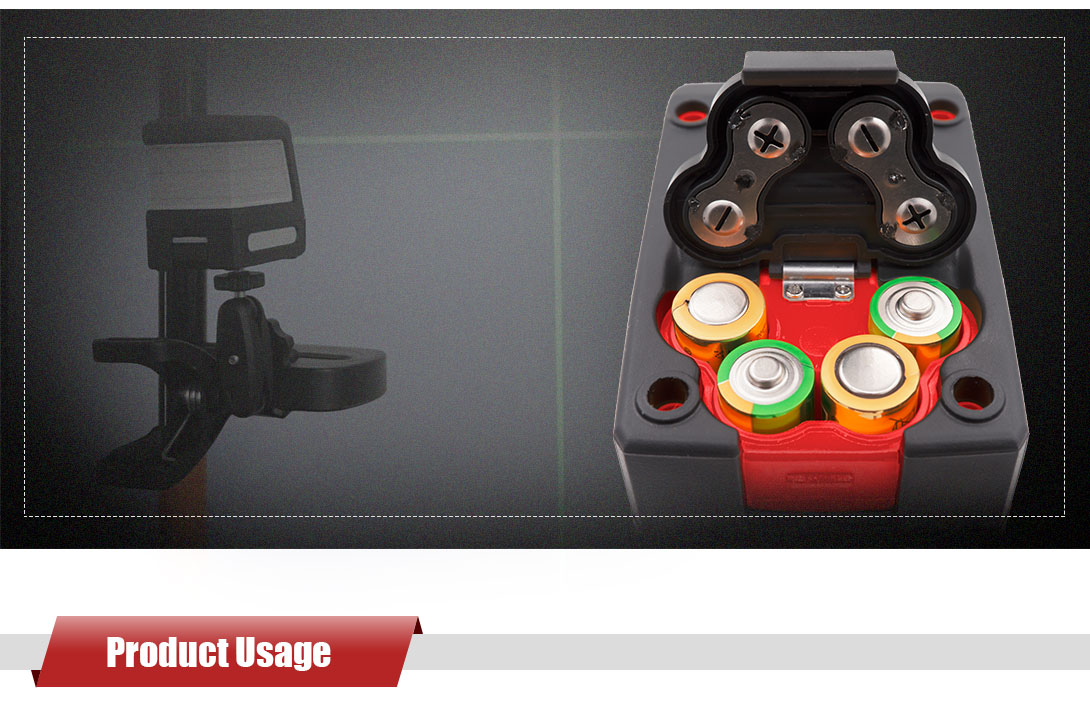 This laser level will make easier to hanging pictures, install floors, closets, retaining walls, tiles and pipes indoors, framing, laying out tiles etc. Ideal for building decorations.